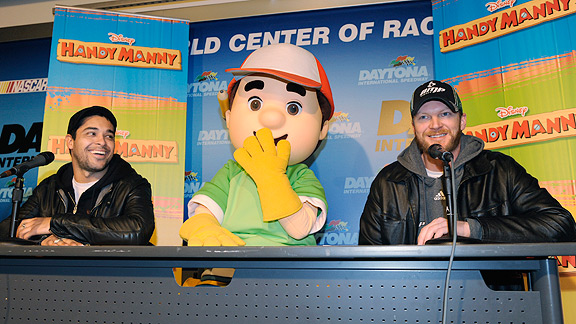 Disney Channel/Preston MackWilmer Valderrama and Dale Earnhardt Jr. talk about the primetime special of "Handy Manny."
For Wilmer Valderrama, it's a dream come true to work on his Disney show "Handy Manny" with Dale Earnhardt Jr.
"You don't understand how much I love racing," said Valderrama, mostly known for his role on "That's '70s Show." "When I was a kid, I was always fascinated with cars, drag racing, speed racing, anything. Hey, when you're young and stupid, that's what you did. Now I get a chance to work with a real racing star."
Earnhardt is making an appearance on the premier of the preschool series' primetime special, "Handy Manny Big Race," on March 20 on the Disney Channel.
Manny and the tools hit the speedway as a pit crew for the Wood Valley 500, trying to help Elliot fix his used race car to enter. The car turns out better than expected, and everyone is ready to race -- except Elliot, who's too nervous to drive. Chase Davis (voiced by Earnhardt) steps in to help.
"My 4-year-old niece is a huge 'Handy Manny' fan, so when Disney Channel approached me about doing this role, I did it with her in mind," Earnhardt said. "It was fun doing it, and being 'Chase Davis' for a while. I know Kennedy will enjoy seeing me on her favorite cartoon."
Valderrama helped create the show several years ago to cater to his 6-year-old brother Christian.
"When I was babysitting, there wasn't much on TV that I thought would appeal to him," Valderrama said. "So when Disney asked me, I thought it was really cool. It's educational and has a great sense of humor."