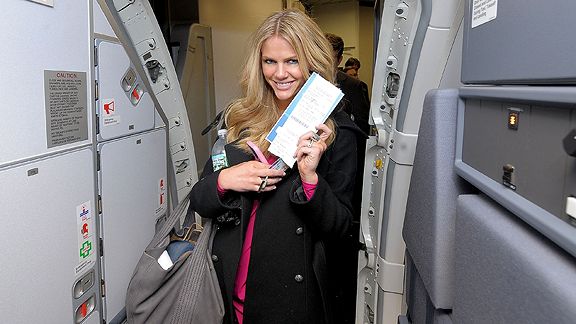 Michael Loccisano/Getty ImagesSports Illustrated swimsuit model Brooklyn Decker boards Tuesday's flight from New York to Vegas.
I've never had the most luck when it comes to air travel. I'm usually the guy who ends up with the middle seat in the back of the plane on a full flight -- even though I reserved a spot on the aisle -- the guy who gets his bags sent to Boston even though he's flying to Burbank and who always, always gets seated next to the grandmother who says I remind her of her grandson.
In a weird cosmic way though, maybe all those fights were a way of balancing out the fact I would one day find my way onto AirTran Flight 8431 -- a chartered plane from New York to Las Vegas with 18 Sports Illustrated swimsuit models.
As I wait to board the flight, I find myself sitting in between this year's cover girl, Brooklyn Decker, and SI swimsuit rookie, Christine Teigen. Although sports writer isn't exactly the vocation or salary bracket that's going to grab the attention of anyone here, Decker and Tiegen do their best to humor me as Decker wipes her hands on my pants after finishing up a pair of egg whites and Tiegen dips her pretzel sticks into my hot salsa cheese sauce and uses that as the springboard for a variety of jokes that are probably not suitable for public consumption.
If Teigen is the class clown, then Decker would be the jock. Not only is she releasing her own series of fitness DVDs and married to Andy Roddick, but she knows more about sports than basically anyone on the plane filled with executives of Sports Illustrated. It was actually her weekly He Said/She Said NFL picks series with Dr. Z that caught Roddick's attention and caused him to reach out and ask her out on a date.
"I'm not an expert, Dr. Z beat me all the time but I'm a huge sports fan," said Decker, who was actually tracking the North Carolina-Duke game on her iPhone at one of the parties. "I'm a huge Tar Heel fan. We're not having the best year but I still love them."
One of the first things you learn about being on a chartered plane with swimsuit models is that the key is to not sit in your assigned seat for long and try to get in the way of as many models as possible. If this means Julie Henderson has to climb over you to get to her seat or Anne V has to put her arms around you to squeeze by or Damaris Lewis has to dance with you through the aisleway to pass the time, well, so be it.
The other thing you learn is that midway through a red-eye flight from New York to Las Vegas, a plane full of swimsuit models isn't as raucous as you think it would be -- everyone begins to curl up in their seats and sleep until landing in the bright lights of Sin City. Well, that is unless you find yourself in a middle seat and your shoulders are being used as a head rest for a couple of tired models.
Suddenly having the middle seat in the back of the plane doesn't seem so bad anymore.