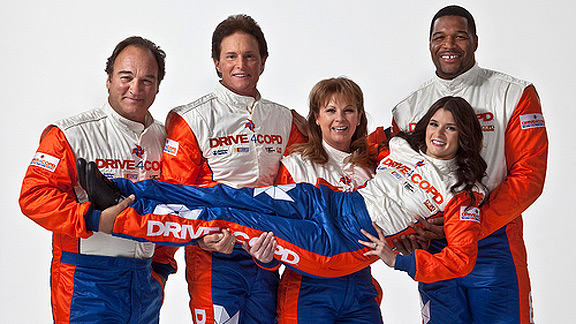 Courtesy of drive4copdJim Belushi, Bruce Jenner, Patty Loveless and Michael Strahan hoist spokeswoman Danica Patrick.
Bruce Jenner is known for …
• Winning a gold medal in the Summer Olympics in 1976.
• Endorsing Wheaties and increasing the popularity of cereal.
• Becoming a motivational speaker, traveling the country to speak on healthy living.
"These high school cheerleaders at the Orlando airport all came up to me screaming, 'Are you Brody Jenner's dad?'" Jenner said. "Ahh, that's my life now, either known as Brody's dad or stepfather of the Kardashian kids."
But Jenner wouldn't have it any other way.
"That's OK. I have a whole new set of fans. And that's great," he said. "It affords me the opportunity to promote some things I have an interest in."
Jenner's latest venture started Saturday when he embarked on a cross-country drive to promote awareness of chronic obstructive pulmonary disease (COPD). He, along with Patty Loveless, Michael Strahan and Jim Belushi, are driving separately to spread the word about the fourth-leading cause of death in the United States.
"It is a horrible disease affecting the whole family," said Jenner, whose wife, Kris, lost both grandparents to emphysema, a form of COPD. "More than 12 million people are affected today. And millions more don't even know they have it."
You can find more details about the drive here or follow them on Twitter here.
Since we had Jenner for a few minutes, we asked him several other questions:
• On the reality TV show: "It's intrusive, but I get to spend all day working with my family. What can be wrong with that?"
• On the Winter Olympics: "I know I was known for the Summer Games, but I love the Olympics. I know how hard those athletes worked to get there."
• On Reggie Bush, who is dating his daughter: "He's a great man and very quiet. I did put pressure on him to win the Super Bowl. I already had a son-in-law with an NBA title, and I have my gold medal. So Reggie needed to win a title too. In 10 years, I want my daughter Kendall to date a baseball player."