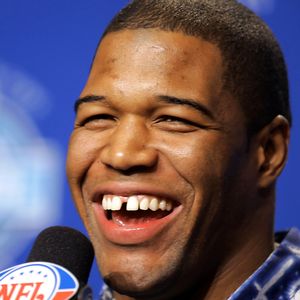 AP Photo/Michael ConroyFormer Giants player and now Fox analyst Michael Strahan said he wouldn't give up his day job to coach.
Michael Strahan needs a nap.
The former New York Giants defensive end has been driving from Daytona Beach, Fla., to Charlotte to Pittsburgh and now to Cleveland and then Detroit, spreading the word on chronic obstructive pulmonary disease (COPD).
So, Michael, you played 14 years in New York and now you're traveling to some NFL hotbeds. Ever thought of playing somewhere else?
"Why? I was in the greatest city in the world. If you can make it in New York, you can make it anywhere. Concrete jungle …," said Strahan, who was drafted in the second round out of Texas Southern. "I could go on, but I don't want copyright infringement."
Strahan's uncle died from emphysema and he, along with Patty Loveless, Jim Belushi, Bruce Jenner and Danica Patrick are championing a cause to help people understand the nation's fourth-leading killer.
"This is something personal to me," he said. "I'm blessed that people want to hear what I have to say."
Strahan is spending Monday night in Cleveland and then off to Detroit. Ever think of being a head coach?
"They work too hard," said Strahan, who is a football analyst for Fox NFL Sunday. "Look, I talk on television. How hard is that?"