Did you blow all your money on roses this Valentine's Day? Need cash to pay for spring break or a trip to spring training? Pick up a few extra bucks with Page 2's Classifieds.
HELP WANTED
Workers Needed: Major racing series seeks road crews for emergency track repair. The right candidates will thrive in a fast-paced environment. Must work Sundays! Call NASCAR in Daytona Beach, Fla.
We need players! Do you have multiple felonies? Are you locker-room poison? Have you recently been cut by an NFL franchise? If so, join the Redeem Team. Submit applications to Mike Brown and Marvin Lewis in Cincinnati. No background checks!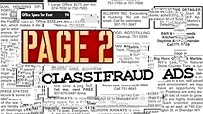 Volunteers needed. Once thriving dunk contest, now on life-support, desperately needs new blood. Preferred participants include Kobe, LeBron, Dwight and Dwyane, but we'll consider anyone not named Gerald. E-mail applications to: commish@nba.com.
Call for artists! Designers wanted for statue commemorating the accomplishments of Bud Selig. (Note: Submissions that refer to steroids, the 2002 All-Star Game or the 1994 World Series will not be considered.)
POSITIONS WANTED
Injury-prone running back, rushed for 390 yards in 2009, seeks job paying $8 million per year. Qualifications include ability to sell lots of merchandise and a hot girlfriend. Contact: R. Bush in The Big Easy.
Aging outfielder, former "idiot," seeks position with world cchampion. Or a contender. Or, really, anyone. Call Johnny D., via Scott Boras.
WANTED TO BUY
International sporting event, just a few days old, already experienced bad weather, tragedy, ugly protests and an epic FAIL lighting the Olympic torch. We're paying top-dollar for four-leaf clovers, horseshoes and rabbit's feet. Donations accepted. Call the VOC in B.C., ASAP.
FOR LEASE
NBA guard/small forward. High school graduate, multiple All-Star. Available for 31-game rental. If interested, please call T-Mac in Houston.