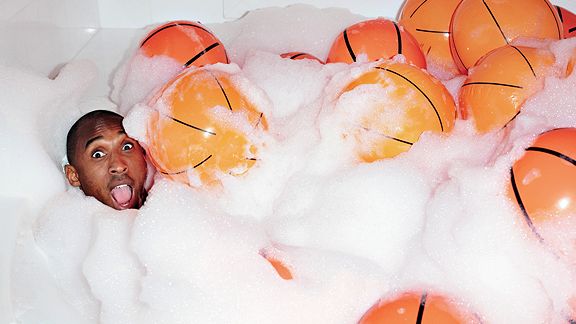 Terry Richardson/GQKobe Bryant sits in a bubble bath for a photo shoot for the March GQ magazine.
It's a busy week for Kobe Bryant.
The Los Angeles Lakers leading scorer (28 ppg) won't play Tuesday night against the Golden State Warriors but will appear on the March issue of GQ.
In the article out on Tuesday, Bryant talked about his relationship with Shaq, his litany of injuries and how he has no fear.
"If you make it, great. If you miss it -- what's there to be afraid of?" he told writer J.R. Moehringer.
Failure?
"If you're afraid to fail, then you're probably going to fail," he says, laughing. "You know what I mean?"
Oh, the photo above is from the spread in the magazine. No words are necessary.