Welcome back to the College Hoops DVR, in which -- depending on whim -- we look backward or forward or just let things play, always in quick succession.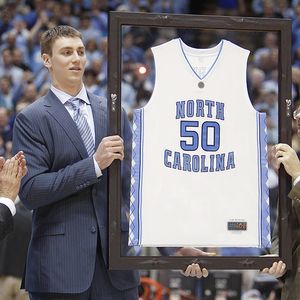 AP Photo/Chuck BurtonNorth Carolina retired the jersey of 6-foot-9 Tyler Hansbrough, the tallest scrappy athlete in history.
FF: Chas McFarland of Wake Forest has joined J.J. Redick and Tyler Hansbrough as one of the most villified players in recent ACC history. But fans outside the conference are largely unfamiliar with McFarland, so in an effort to raise his profile, the 7-foot senior is going to start wearing real fur on his uniform collar.
STOP: Virginia Military Institute says it's lost interest in landing an invitation to The Big Dance -- after learning no girls will be invited.
REW: Tyler Hansbrough had his number retired by the University of North Carolina before the Tar Heels' game against archrival Duke on Wednesday. In honor of Hansbrough's appearance, referees called touch fouls against Duke throughout the game.
FF: Illinois, which the ESPN College Basketball Encyclopedia ranks as the best program never to win a national championship, is well positioned to retain its title.
PAUSE: Big Ten coaches need a 12th for their fantasy baseball league.
PAUSE: LSU led Vanderbilt 29-28 at the half on Saturday, and seemed primed to win its first SEC game of the season. But Les Miles once again mismanaged the second half, and LSU lost its 11th straight conference game.
PLAY: UConn asked the NCAA tournament selection committee to overlook any games not coached by Jim Calhoun this season, and the committee has agreed. UConn is now in line for a possible three seed.