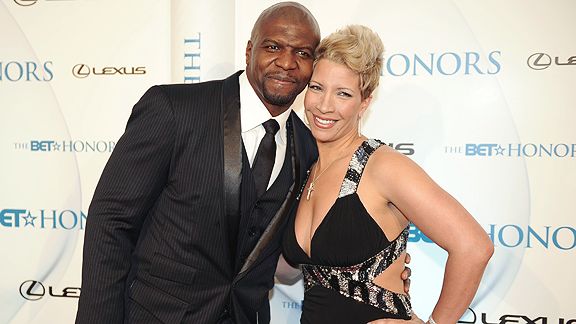 AP Photo/Nick WassTerry, and his wife Rebecca, will be putting their lives on display on a reality show.
Terry Crews laughs at the thought of getting the last laugh.
"The 'Longest Yard'? That was my revenge on the NFL," he says with a chuckle. "I got cut so many times and I end of being a famous football player anyway."
That's pretty much accurate -- that remake film in 2005 is one of the highest-grossing sports films ever made, raking in more than $190 million worldwide.
And when the film was released and reached that accolade, it was a crowning glory for the 41-year-old Crews, who'd struggled for years with his wife Rebecca and their five kids.
Crews came out of Western Michigan University in 1991 and was drafted by the Rams in the 11th round, ultimately playing three seasons in the league (1991, '93 and '95). He played defensive end and linebacker for the Rams, Chargers and Redskins. It was an up-and-down time for him, to be sure, but now that his life has turned around, he wouldn't change a thing. He's got a laundry list of projects on the way.
"Everything has been really rolling steady, and I just thank God to have this opportunity. I'm an old football player, you know? That's just what I am, and a lot of times, that transition is really hard," he says. "I'm one of the few that made it out and still love what I do."