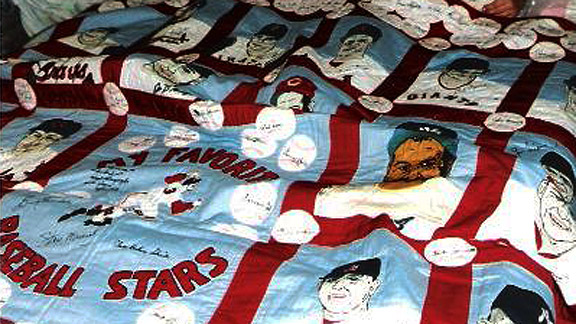 baseballsportsmemorabiliaauction.com
Spring training is just getting started, but most of the country is still in the grip of a chilly winter. So how can you combine baseball with a bit of warmth?
You could start by snuggling up with this quilt. And it'll only cost you, oh, at least 10 grand.
That quilt, called "My Favorite Baseball Stars," was handmade by Clara Schmitt Rothmeier during a 10-year span in the 1950s and '60s (you can see the whole thing, along with close-ups of individual sections, by clicking on the images on this page). It's one of several quilts she made during a baseball-obsessed lifetime that ended last year. The quilts will be auctioned off this weekend, along with 10,000 baseball cards and assorted figurines, ticket stubs, scrapbooks, programs and other memorabilia.
Memorabilia is fine, but the quilts are the real prizes here. In addition to "My Favorite Baseball Stars," with its super-cool level of detail, Rothmeier also made quilts devoted to the Brooklyn Dodgers, MLB autographs, the St. Louis Cardinals (they were Rothmeier's favorite team, so she honored them with multiple quilts), MLB uniforms and logos, and a local softball team (my personal favorite).
It's not clear how much the quilts will sell for, because there's so little precedent for this type of item, but informed estimates are running anywhere from $10,000 to the six-figure range. Want to get in on the bidding? Full info is available here.