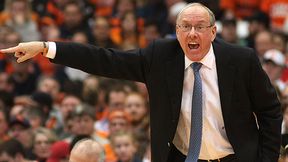 Marc Squire/Getty Images
It wouldn't be sports if there wasn't a never-ending debate about changing this or that aspect of the games and leagues we all love so much as fans.
The world of college basketball may not garner the same type of intense scrutiny as NCAA football, but changes to college hoops are nevertheless debated and implemented every so often. The topic du jour these days seems to be the merit of possibly expanding the NCAA tournament from 65 teams.
Syracuse head coach and Basketball Hall of Famer Jim Boeheim is in the camp of expansion. He joined Colin Cowherd on ESPN Radio on Tuesday to explain why.
• Click here to hear the entire interview

• Click here for a transcript of highlights from the interview