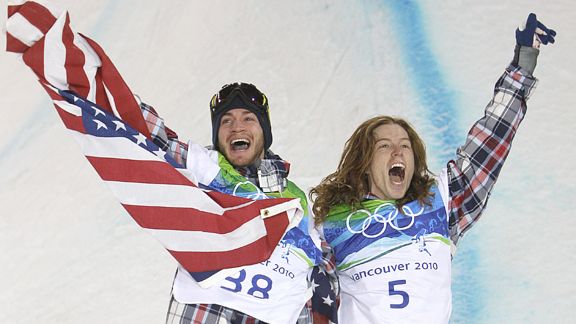 AP Photo/Gerry BroomeOlympic champion Shaun White (right) celebrates with bronze medalist Scott Lago.
It's a question asked of many Olympic gold medalists: Now that you've proved yourself as the best athlete in your sport, where do you go from here?
Apparently, Shaun White would like to go to Washington, D.C.
"We've seen some other Olympians do this, and I don't think we've had the honor, [but] to meet the president of the United States would be cool, go to the White House," White said at a news conference after winning the halfpipe title Wednesday in Vancouver, British Columbia.
With competition over, the "Flying Tomato" "Animal" wanted to let the commander in chief know his schedule is pretty open.
"I'm free for dinner," White said with a shrug. "I don't know what you're doing; you may be busy. We could move some things around to make that happen."
At which point, U.S. teammate and bronze medalist Scott Lago chimed in, "Hit us up, Obama, if you're out there."
Unfortunately, Vice President Joe Biden, who attended the 2010 opening ceremony, already had returned to Washington and was not on hand to witness White's ride or deliver the message personally to the Oval Office.
However, here's hoping the duo gets an invite.