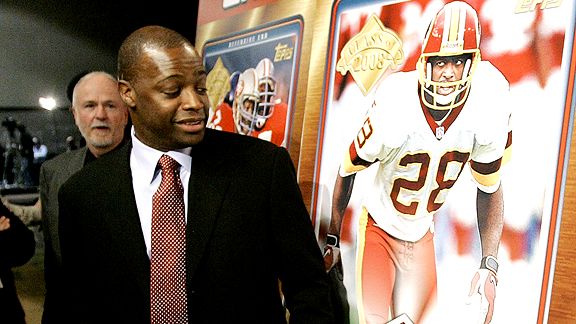 AP Photo/Matt YorkDarrell Green, after running the 40, said, "What are you going to do on your 50th to top me?"
Darrell Green has lost a step.
But only one step.
In celebrating his 50th birthday this week, the former Washington Redskins defensive back said on Twitter he ran a 4.43 40-yard dash. That's in seconds.
"I'm guessing that makes me the fastest baby boomer! I would say, that's really booming. Are you?" Green said.
When most 50-year-olds are looking for early-bird specials, Green was out putting up times that would interest most NFL combine scouts.
New Washington Redskins coach Mike Shanahan had better hope Daniel Snyder hasn't heard about Green's birthday run; otherwise, the Redskins owner might be tempted to sign Green.
After all, Snyder loves bringing people back from retirement.
Sherm Lewis went from calling bingo to calling the offense in the middle of last season. And he was almost 70.
If Herschel Walker can step into the octagon and win an MMA battle at 47, I'm sure Green could keep up with Chad Ochocinco on a deep post.
If Gordie Howe can play 80 games for the Hartford Whalers at age 51, why can't Green suit up for the Skins again?
Daniel Snyder is no stranger to giving contracts to older athletes. He once gave a 40-year-old a five-year contract.
That player?
Darrell Green.