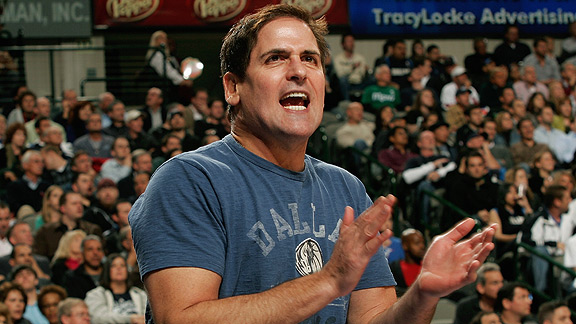 Tim Heitman/NBAE/Getty ImagesDallas Mavericks' Mark Cuban: "All players think that they are general managers at heart."
For NBA fans, this summer has been a long time coming. It is the free-agent class that includes LeBron James, Chris Bosh, Dwyane Wade, Amar'e Stoudemire and Joe Johnson. There hasn't been a class quite like this one since Tim Duncan, Tracy McGrady and Grant Hill became free agents in 2000. NBA teams have been trying to clear space for quite some time so they can be in a position to land one of these max-contract, free agents.
Dallas Mavericks owner Mark Cuban joined the Dan Patrick Show to talk about how many NBA players he thinks would take less money to win a championship, whether LeBron would stay in Cleveland if he wins a championship, and whether he monitors his players' Facebook pages and Twitter accounts.
• Click here for a transcript of highlights from the interview