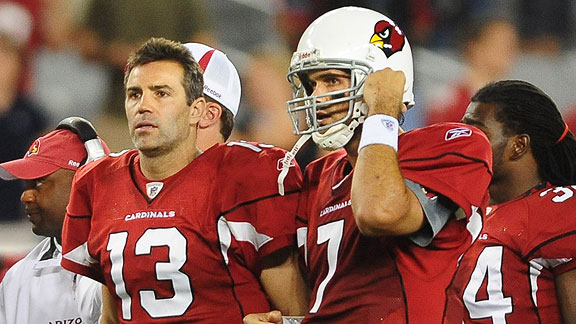 Mark J. Rebilas/US PresswireThe time is now for Matt Leinart to prove he's more Kurt Warner and less Ryan Leaf.
Matt Leinart came into the NFL as the next best thing since sliced bread. He won a National Championship, the Heisman Trophy, and was the tenth pick in the 2006 NFL Draft. But after a prolonged contract holdout and an some erratic performances, he would ultimately lose the starting job to former Super Bowl winning quarterback Kurt Warner.
After battling Warner for the starting position the first four years of his career, the time has now come for Leinart to step up to the plate and show everyone why he was a first round pick. He will no longer have to look over his shoulder to see when coach is going to replace him with someone else. As of right now, Leinart is the only quarterback under contract on the Cardinals roster so the team is his. This is his chance to shine. He has all of the tools necessary to win games with a plethora of wide receivers including Larry Fitzgerald and a stud running back, Chris "Beanie" Wells. The Cardinals plan to run the ball more often this season which will allow them to call more play-action passes and get Leinart out of the pocket which is where he is at his best.
• Click here for a transcript of highlights from the interview