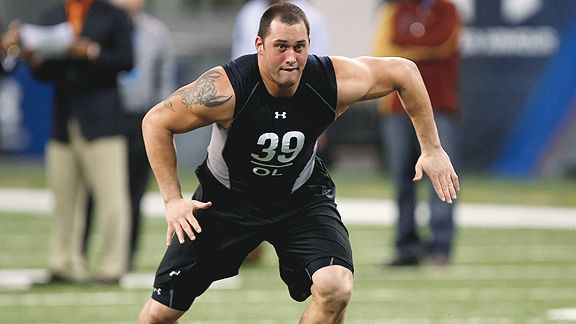 Scott Boehm/Getty ImagesOffensive linemen such as Lydon Murtha reputedly fare much better than average on the Wonderlic.
INDIANAPOLIS -- They're usually the biggest guys on the field, but are offensive linemen the smartest?
If the Wonderlic test is an indicator of intelligence, the answer is yes.
Annually, offensive linemen average a higher score on the 12-minute, 50-question quiz administered at the NFL scouting combine than players at other positions do.
Longtime NFL scribe Paul Zimmerman figured out the averages per position, and offensive tackles lead the way with a median score of 26. Centers are a close second at 25.
At last year's combine, the overall average for all positions was 21.
"There's not a lot of unintelligent guys on the offensive line," said Illinois guard Jon Asamoah, an Academic All-Big Ten honoree.
There are, of course, exceptions to the rule. We all remember Andre Smith's unwise decision to run the 40-yard dash shirtless a year ago at Alabama's pro day.
Said Virginia Tech tackle Ed Wang: "I'll be keeping my shirt on."