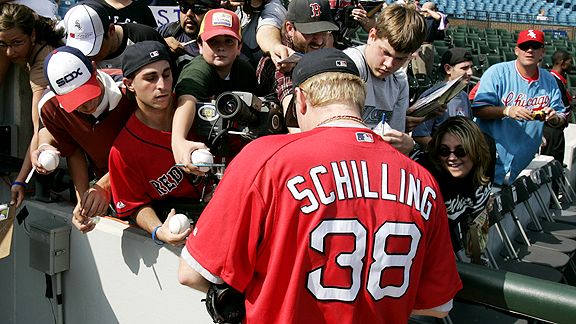 AP Photo/Darron CummingsCurt Schilling, signing autographs when he played, wishes he knew where the autographs were going.
ORLANDO, Fla. -- Baseball pitching great Curt Schilling said he and his family are having a great time spending this weekend at Walt Disney World as part of ESPN The Weekend.
That's when fans get a chance to hang out, mingle with and get autographs of athletes from all sports and ESPN broadcasters.
After 20 years of baseball and winning three World Series, Schilling loves giving back to the fans. But he's still wary of some autograph seekers.
Are they keeping the autographs for themselves or selling them?
"This is a poor analogy, but it's like terrorism. If autograph dealers want to get in, they will," Schilling said. "That's a tough thing to say because I also see these kids, too. There are so many people who have no interest in me and want me to just sign some things so they can sell them."
Schilling sets up rules on when and where he will sign. The most important rule is that he won't sign autographs when his family is around. And most people are respectful of that.
"The problem is that I can have 115 people stand there in line, and if I sign 114 out of 115, people will be talking about the one I didn't sign," Schilling said. "So my rule is that if I can't sign all of them, then I won't sign any."