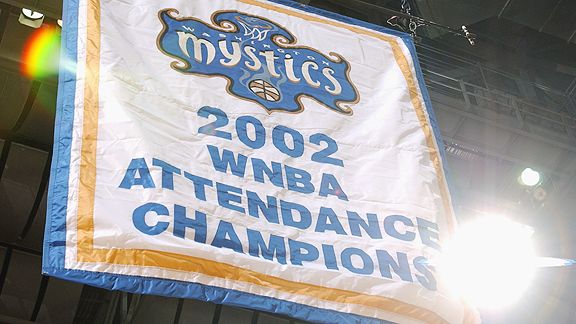 Mitchell Layton/NBAE/Getty Images
There it hangs, unspooling from the dark metal rafters of the Verizon Center in downtown Washington, D.C., as inspiring as ratty undergarments pinned to a long-forgotten laundry line. The banner is trimmed in orange and blue. It sports the wavy, telephone psychic-inspired logo of the Washington Mystics. In large block letters, it reads: "2002 WNBA ATTENDANCE CHAMPIONS." For good measure, there's another that reads "2003 WNBA ATTENDANCE CHAMPIONS."
The Lincoln Memorial, it ain't.
A Michael Jordan statue outside Chicago's United Center. The New York Yankees' Monument Park. The sports world is rife with totems celebrating athletic excellence, such as the 17 Boston Celtics championship standards displayed at Boston's TD Garden. Then there's the other stuff, such as the "Colorado Rockies 1995 Wild Card Champions" mural that used to adorn the Coors Field outfield wall, the "OAKLAND RAIDERS WORLD CHAMPIONS" flag that still flies at Oakland-Alameda County Coliseum and the Mystics attendance gonfalons, which we submit as the most ridiculous celebratory items displayed in any North American sports venue -- nay, the single lamest sports banners on the planet.
Unless there's something lamer.
Here's where you come in: Page 2 is looking for the lamest banners in sports, and we want your nominees. The ground rules? No homemade banners. No fan stuff. The flags have to be sanctioned by a team or organization in some fashion. They have to be official, something raised for posterity, something put up out of pride -- no matter how ill advised. As for what qualifies as lame? It's a lot like the Supreme Court's classic definition of obscenity. You know it when you see it.
Ready to play? Upload your photos here. We'll choose and rate the winners -- note: term used loosely -- in a subsequent article.
• Click here to join Page 2's Bogus Banners group and upload your lame banner photos.
• Click here to see Page 2's gallery of bogus banners.