Now that the face of U.S. speedskating has become America's winningest Winter Olympian of all time, with eight career medals, know this: Apolo Anton Ohno's autographed trading card is hot enough to melt the very Vancouver ice upon which he made so much history.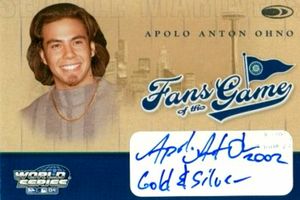 Beckett Magazine for ESPN.comHere's a look at the Apolo Anton Ohno baseball card.
Ohno's 2004 Donruss World Series Fans of the Game autographed trading card, limited to just 300 copies, has been selling for as much as 325 percent above its current value.
A mostly forgotten card, which carried a modest $40 price tag before this year's Olympics, vaulted in value to $150 on Feb. 19. Less than a week later, it was valued at $175. More-plentiful unsigned versions of the card, valued at just $2 two weeks ago, have been selling for as much as five times that price.
Ohno burst onto the scene during the 2002 Winter Games in Salt Lake City by winning a gold and silver medal. His trading card followed two years later, included in a traditional baseball set as part of a continuing series honoring the favorite sports teams of selected celebrities.
Ohno, a Seattle Mariners fan, went on to win three more medals at the 2006 Winter Games in Turin, Italy -- setting the stage for his record-breaking performance in Vancouver.
The Olympics have provided this type of meteoric value ascension before -- most recently with American swimmer Michael Phelps in Beijing two years ago. Phelps' record feat of eight gold medals in a single Olympics sent his 2004 Leaf Rookies & Stars Fans of the Game autographed card on a staggering increase, from $60 to $800 in less than a week. That card has since settled in the $500 range.
It's worth noting that speedskater Bonnie Blair (whose career-medal record Ohno broke) and medal-winning U.S. downhill skier Bode Miller also appear on a handful of autographed trading cards from 2004 and 2008, worth between $25 and $60.
Tracy Hackler is the editorial director for Beckett Media and the editor of Beckett Sports Card Monthly.