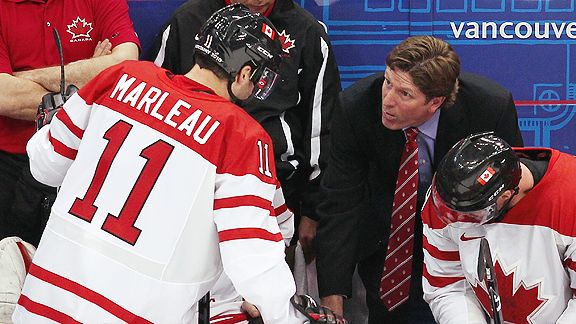 Jamie Squire/Getty ImagesMike Babcock, the Canadian Olympic hockey coach, faced an extraordinary amount of pressure.
The Vancouver Olympics have come and gone. They began with tragedy and ended in triumphant celebration -- particularly if you're Canadian. The men's gold medal hockey game between the United States and Canada was the highlight of the Games. Television ratings were through the roof in the U.S. for the game -- and though we came up short, it was fun watching the country rally behind the hockey team once more. We haven't really seen that since the Miracle on Ice 30 years ago.
Canadian coach Mike Babcock joined Waddle & Silvy on ESPN Radio in Chicago to talk about what impressed him most about Canada's gold medal performance, how much pressure there was on him and the squad to deliver the gold, the play of American goaltender Ryan Miller, and the brutal scheduling of the Games right in the middle of the NHL season.
• Click here to listen to the full interview

• Click here for a transcript of highlights from the interview