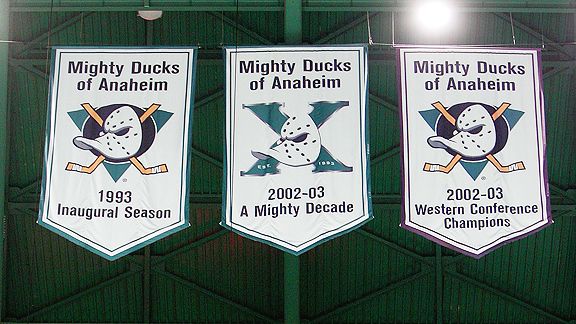 Jim McIsaac/Getty Images
Herbert Hoover once said competition is the incentive to progress. Clearly, the man who may have exacerbated the Great Depression was unaware of Page 2's Lamest Sports Banners Contest, an ongoing reader competition in which the only progress is a quickening downward spiral of utter athletic futility.
Today's case in point: the above banners from the Anaheim Ducks, two of which:
(A) Treat the team's very existence as something worth commemorating, a bit of a stretch in the ever-expanding, Ponzi-scheme NHL;
(B) Treat the team's ability to exist for an entire decade as an accomplishment all its own, hardly noteworthy given that both Hootie and the Blowfish's and Mario Lopez's careers have enjoyed longer runs;
(C) Would look a lot better next to a giant picture of Emilio Estevez.
Anyway, the race to the bottom is on -- so very, very on -- and we still need your help.
• Click here to see our gallery of lame banners.
• Click here to join our group and upload photos of your nominees.