Forget Craigslist. When you've got something to buy or sell -- whether you need to hire someone, or need to be hired -- Page 2's classifieds are always the best place to start your search. Check out this week's edition of the coolest online classifieds.
FOR SALE
Private collector parting with rare memorabilia -- the hockey stick and gloves Sidney Crosby used to score his gold medal-winning goal. Asking $500,000 OBO. Contact: Anonymous in Vancouver.
GOING OUT OF BUSINESS SALE!
We are a specialty store that sells LeBron James merchandise and just bought a huge shipment of No. 23 jerseys, hats and T-shirts. Our financial disaster is your gain! Deep, deep discounts on what will one day be valuable collector's items. Will consider trades for food. Call "The 23 Store" in Cleveland for more info.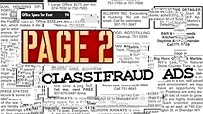 HELP WANTED
Driver needed! Stock car series, Triple-A level, seeks photogenic female driver to bring back the attention we had the first three weeks of the season. Please send résumé and headshots to: NASCAR Nationwide Series, Daytona Beach, Fla.
NFL team seeks running back. Must replace the 1,400-plus yards of offense we just lost. Salary commensurate with experience. Non-Drew Rosenhaus clients preferred. Contact Rex in Florham Park, N.J., for more information.
JOBS AVAILABLE
Former global superpower/Olympic powerhouse, now hiring hockey players, figure skaters, skiers, bobsledders and more. After our recent, embarrassing sixth-place in the Olympic medal count, most of our current team will soon be "reassigned for training" in Siberia. Candidates should send resumes to: Dmitry Medvedev, c/o The Kremlin, Moscow.
POSITIONS WANTED
Former college quarterback seeks NFL job. Qualifications include; speed, agility and a totally revamped throwing motion. Plus I'm a hard worker with great people skills! For an interview please call Tim T. in Gainesville. (Please note: throwing motion unavailable until March 17.)
NBA star on the move! Aging, surly guard. Recently cut after claiming to be caring for his sick daughter, but being seen out partying with rap star Jermaine Dupri. Light practice schedule a must! Call The Answer in Philly.
High profile wide receiver for hire, great speed, average hands, seeks (yet another) new team. Sure, there are free agents without the baggage, such as Miles Austin and Vincent Jackson. But they won't sell tickets like me. Interested teams, are advised to contact T.O. at wherever the cameras are.