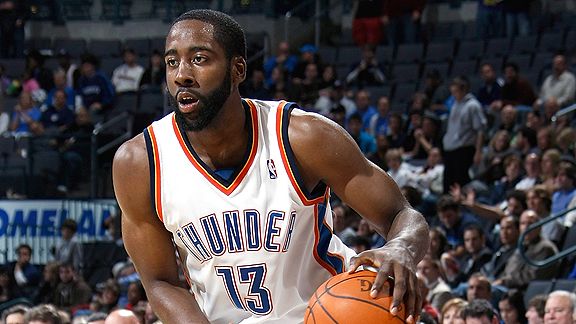 Layne Murdoch/NBAE/Getty Images
There aren't many twenty year olds who can grow a beard that rivals Honest Abe. Much less pull it off.
But James Harden can.
The Oklahoma City Thunder guard is wearing a faux high school letterman jacket and jeans. At 6' 5" and over 200 pounds, he's hard to miss. But the first thing that jumps out is that beard. Yet somehow it fits. Harden comes across as quiet and thoughtful. Maybe it's because he's a rookie. Last June the Thunder used their first pick in franchise history to take him 3rd overall. He seems to be soaking in all that the NBA, his teammates and city have to offer. In only their second year, the Thunder have already eclipsed their winning total from last season and have a legitimate shot at the playoffs. Their young core has arrived on the same page, and Oklahoma City has now won 12 of their last 15 games.
With the Thunder in Los Angeles to face the Clippers on March 5, I sat down with Harden (an L.A. native) to talk about what it's like living in Oklahoma City, hanging with Kevin Durant off the court, and where he just has to go when he's back home.