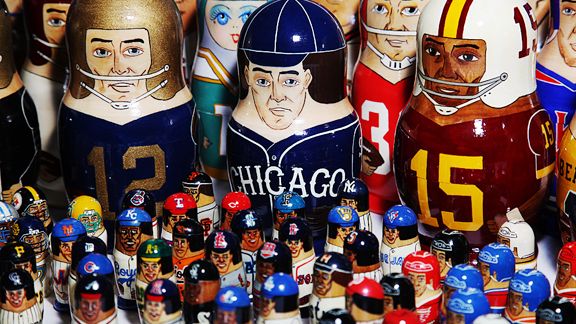 Andrew Fladeboe for ESPN.com
We all know about sports-themed bobblehead dolls and McFarlane action dolls. But what about Russian Matryoshka dolls?
Those dolls, also known as babushkas -- and a lot more of them -- were collected by Andrew Fladeboe's father back in the 1990s. And they're not just Russian-styled -- they're actually from Russia!
"My dad was in the military and worked in the state department when I was growing up," Fladeboe said. "We ended up moving to Moscow from 1994 to '97, and we would go to these huge outdoor markets where you could buy anything. I remember CDs were like 10 cents. Anyway, he sort of befriended one of the guys who made these Matryoshka dolls. He kept asking my dad to bring him Street & Smith magazines of all the sports so he could keep track of uniform changes and get the numbers and names right. So my dad would bring him photos of old uniforms and the names and numbers of who he wanted on the dolls."
The results speak for themselves, from the NFL and MLB dolls to the college football and NHL versions (love the little hands holding the sticks).
"The dolls cost between $10 and $15 apiece," Fladeboe said. "They made great gifts so I think he gave a lot of them away." Fortunately, he kept enough of them for us to admire today.