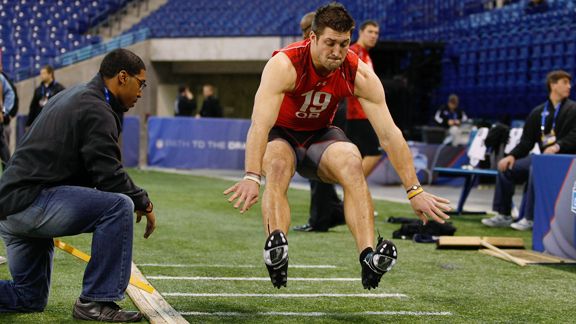 Scott Boehm/Getty ImagesTim Tebow will be a huge story all the way up to the NFL draft next month.
Former Florida quarterback Tim Tebow had one of the most impressive and talked-about careers in collegiate sports history. Since his career ended with an MVP performance in a 51-24 victory by his Gators over the Cincinnati Bearcats in the 2010 Sugar Bowl, Tebow has turned into one of the more controversial and talked-about NFL draft prospects in the league's history.
Few doubt his leadership abilities or character, but questions abound regarding his on-the-field future. Tebow is determined to prove that he can play quarterback at the next level. He's even working on changing his throwing motion and taking snaps from center to better fit the NFL game.
Those revamped skills will be on display at his pro day on March 17, as well as in private workouts for the Buffalo Bills and Seattle Seahawks. He will surely interview well, but that's probably irrelevant at this point. Based on recent events, Tebow is looking like the anti-Ben Roethlisberger. Time will tell whether that's a good or bad thing for his career.
Tebow joined Lamm at Large on WJXL radio in Jacksonville to discuss Urban Meyer, his throwing motion, potentially playing for Jacksonville, his favorite NFL team growing up and parents proposing to him on behalf of their daughters.
• Click here for a transcript of highlights from the interview.