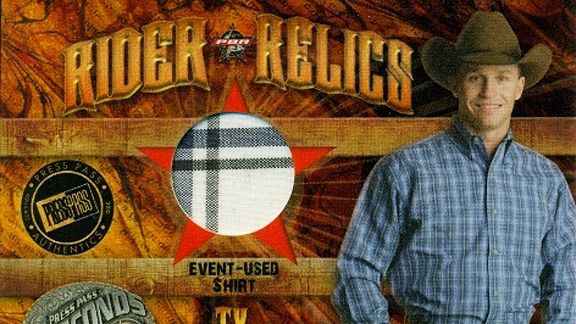 Press Pass
There are those purportedly in the know who'll swear up and down that professional bull riding is swiftly stampeding its way deeper into the mainstream sports conscience.
Some folks, understandably skeptical of such a claim, will seek validation in the PBR's television ratings on Versus or in its burgeoning live attendance figures (a recent event at Jerry Jones' Cowboys Stadium attracted more than 40,000 fans).
But all the proof you really need to support the notion of an upwardly mobile PBR is likely as close as the nearest Walmart or Target, in a sports card aisle suddenly full of bulls … and the men who ride them.
In late February, longtime NASCAR trading card manufacturer Press Pass released 8 Seconds, the company's first licensed set of cards devoted to the rugged PBR's biggest stars -- from top riders such as defending world champion Kody Lostroh and all-time great Ty Murray to legendary leaping livestock like Code Blue and Booger Butt.
To be sure, it's an eccentric set with some quirky twists. But it works.