By the second week of March, the end of our nasty, post-Super Bowl sports lull is in sight. College basketball jumps into high gear. Baseball's creaky old gears turn in Arizona and Florida. NBA players sometimes give their all for the entire fourth quarter as the playoffs approach.
This time of year also means spring cleaning and spring break. The beauty of it? You can use Page 2's classified ads to sell the junk you haul up from the basement and use the cash to pay for your trip. Unless you want to go someplace good. Then you need a job. We've got those, too.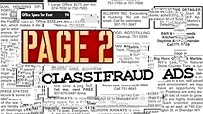 FOR SALE
One quarterback's reputation, slightly tarnished. Two-time Super Bowl champ, selling reputation piece by piece in nightclubs, bars and casinos across the country. Cheap! E-mail BigBen@Ishouldknowbetter.com.
FREE TO GOOD HOME!
No. 1 men's college basketball ranking. Previously owned by Texas, Kentucky, Syracuse and Kansas -- twice. Come and get it! Up for grabs. Will be waiting for you in downtown Indianapolis.
COLLECTOR'S ITEM
Huge box of hair, dyed purple and gold, shaved after Vince Carter went off against me for 25 points. Asking $50,000 or best offer. Tweet @TruWarriorLaLand for more info.
HELP WANTED
Therapists needed. Motorsports series seeks anger management counselors for on-site therapy. Must enjoy working with strong personalities in a fast-paced, high-pressure environment. Road-rage experts a plus. Send résumé to Mike Helton, c/o NASCAR in Daytona Beach, Fla.
Closer wanted. Small-market baseball team now hiring for prestigious closer position. The winning candidate will have notched at least 47 saves last season with an ERA below 2.10 and will not have a tear in his ulnar collateral ligament in his elbow. Send salary requirements and best wishes to: Ron Gardenhire in Fort Myers, Fla.
Need a caddie: Golf superstar seeks (another) new caddie. Must have strong work ethic. Must not take my wife's side in public. Write: twoods@wouldntulike2know.com for more information.
College basketball team, defending national champion, seeks supernatural intervention. Looking for wizards, psychics, magicians or anyone else with mystic powers to help us win the ACC tournament. Anything to avoid the NIT. Just dial up ol' Roy in Chapel Hill, N.C.
PERSONAL
Pro football head coach without first- or second- round pick looking for something to do during NFL draft. Anyone in Chicago want to see "Precious" with me that night? Call and leave a message for Lovie at Soldier Field.