Michael Vick has made it pretty clear that he wants to be a starter on an NFL team again. But right now he's in a situation in Philly where there is a logjam at the position.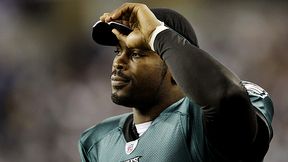 Jamie Squire/Getty Images
Vick keeps doing the right things off the field, continuing on the road to redemption. In fact, his dramatic turnaround since being given a second chance in the NFL, and in life, just earned him the prestigious Ed Block Courage Award.
Now, he just has to wait and see if he can find the starting gig he thinks he's ready for.
Vick joined "The Fast Lane" at ESPN 101 in St. Louis to talk about what it means to him to be given the Ed Block Courage Award, what he is doing right now to improve his passing skills, what he thinks about potentially playing for the Rams, and whether or not he believes he can still be a quality starting quarterback in the NFL.
• Click here for a transcript of highlights from the interview.