Hall of Fame catcher Johnny Bench says his career total for squats is in the neighborhood of 500,000. "Not counting when I'm reading my putts," the 62-year-old told Page 2. Bench, who's had two hip-replacement surgeries in the past six years, can afford to joke now because the chronic pain in his left hip -- "I went through sleepless nights, not being able to get through airports, not being able to get in and out of the car" -- was alleviated in February when he became the first person to receive a revolutionary large-head hip that's supposed to minimize the chance of dislocation.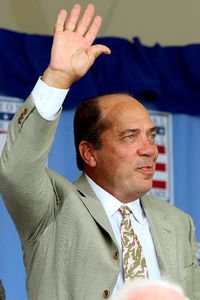 Jim McIsaac/Getty ImagesJohnny Bench is a pioneer when it comes to hip surgery.
Bench, who recently became a new father, discussed today's catchers and the challenges they face, and how his quality of life -- he can resume golf in two weeks -- has improved since surgery.
Page 2: How did it come to pass that you were the first to have this type of hip-replacement surgery?
Bench: Six years ago I had a doctor who … saw me walking around and he said, "Your back's bad, your hip's gone." So he said we needed to do the hip-replacement surgery [for my right hip], so we did it. Now when I started to get some of those similar pains [in my left hip], I already knew what I was going through. And I wasn't going to live like that with pain. I called my friends at Stryker [Orthopaedics] and said, "I need a hip, do you have any spare parts?" And [then I talked to my doctor and he said], "If you're willing to, we have [a hip] with a much bigger head. And so there's hardly a chance at all of a dislocation. And with the X3 technology, which is the plastic, there's very little chance that any of it will erode or flake off or do anything that the body may absorb." Got it [done], and after I got back to the room walked back and forth to the door -- two hours later, I walked around the complete hallway and I haven't stopped since. I'm still doing my therapy. Ya know, being the first isn't always the best. In this case it was.
Page 2: Who are your favorite catchers to watch these days?
Bench: Oh, Joe Mauer, Brian McCann. Basically anybody who puts on that equipment. They may not produce offensively enough, but we've got magnificent defensive catchers in baseball right now. The Molina brothers. All of them have done a great job.
Page 2: What can these catchers do to prevent the kind of deterioration that you experienced with your own hips?
Bench: It's all dependent on the body, but the legs are the support. You've gotta have the strongest quads. Ya know, [Carlton] Fisk and [Gary] Carter have had 10, 11 or 12 knee surgeries. I didn't have any of those problems, I was very fortunate. And they didn't have the hip problems that I have. So somewhere or other we're probably going to pay for it in the catching profession.