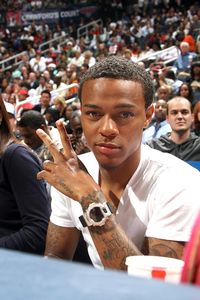 Scott Cunningham/Getty ImagesHas Bow Wow lost his mind?
As the saying goes, "All rappers wanna be ballplayers, and all ballplayers wanna be rappers." Everyone from Allen Iverson to Deion Sanders has recorded a rap song. And although they're doing it for charity, the "rappers wanna be ballplayers" fantasy is surely also driving the Bow Wow and Nelly Celebrity Basketball tour, which has been barnstorming across America for about a year now. (Bow Wow actually has some game, by the way.)
Nothing wrong with that. Go 'head and make some money for charity and indulge your inner A.I. But don't go getting too delusional. We're talking to you, Bow Weezy.
Bow Wow grew up idolizing Iverson; as a teenager he used to talk about his dream of ditching the microphone for a basketball career. Apparently he hasn't let go of that fantasy. A couple of days ago, when a Twitter follower asked Bow Wow if he could see himself playing in the NBA, Bow Wow responded: "yes i could see me runnin with whoever." This was a day after trying to convince the Sixers' Lou Williams about his "J-work" and how he's ready for the league.
One question, Bow Wow: Are you serious?
Here's hoping he's not.