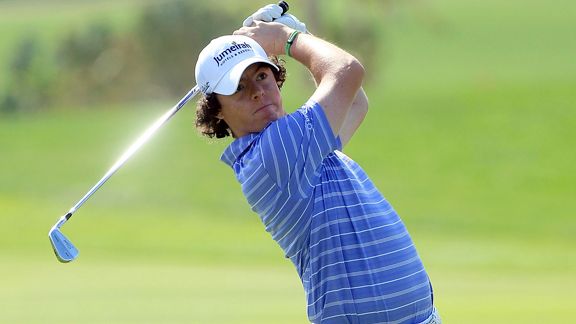 David Cannon/Getty ImagesThe next Tiger?
Growing up in Northern Ireland, Rory McIlroy used to spend hours creating himself in the "Tiger Woods PGA Tour" line of video games. "I'd have the big afro going on then give myself one of those John McEnroe headbands to funk it up a bit." It was quite the look.
These days, McIlroy isn't only featured in the video game as one of golf's fastest-rising stars, he's sharing the cover. EA producers even went so far as to update the physics of the game so Rory's trademark hair could flap in the wind during play.
Unfortunately for EA Sports, they were a little late. "I just had my hair cut last week," Rory says. "I don't think anyone will even recognize me anymore.
"I wonder if they have time to get my new look in the game."
---
Jon Robinson: They call you the next Tiger Woods, now you're sharing the cover with him on his video game. Did you expect anything like this to happen so early in your career?
Rory McIlroy: No, not really. When I got the news that EA wanted me to be on the cover, I was really happy. I look at it as quite an honor because I grew up playing the game. I've been a fan of the game throughout the years, and I still play, so to be on the cover with someone I've looked up to my entire life is pretty cool.