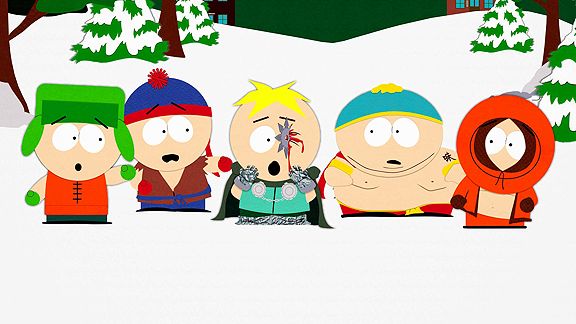 AP PhotoWhat are the chances that 'South Park' goes too far talking about Tiger Woods?
"Oh my God, his caddie killed Kenny!"
We may hear that line Wednesday when "South Park" opens its 14th season with a Tiger Woods episode. And one thing is for sure -- if Tiger Woods has one fan left in this universe, it will be Cartman. We're guessing that the show's creators -- Matt Stone and Trey Parker -- looked at each other and yelled in unison: "Sex addiction!"
And the Sunday Brunch wants to give a shoutout to Ari Fleischer, who is spin-doctoring Tiger's return to golf. Add that to Ari's list of former clients that includes George W. Bush, Mark McGwire and the BCS. It's too bad Ari doesn't have a time machine. He could have done wonders for some leaders of the past.
Other Brunch appetizers:
• Lakers forward Lamar Odom and his wife, Khloe Kardashian, were on TBS' "Lopez Tonight" talking to host George Lopez about Lamar's, uh, habits in bed. Apparently he really likes Double-Stuff Oreos as Khloe said: "He sleeps on them so they melt in the sheets." All together now: Ewwweeee.
• Jake Delhomme is going to throw his interceptions in a Cleveland Browns' uniform this season. Perfect.
• The Jacksonville Jaguars polled season-ticket holders of if they should draft Tim Tebow -- and were shocked when 55 percent said "no." The Jags then scratched the next question on the list: "Do you want us to stay in Jacksonville?"
Enough of the bits of breakfast tid. On to the main courses: