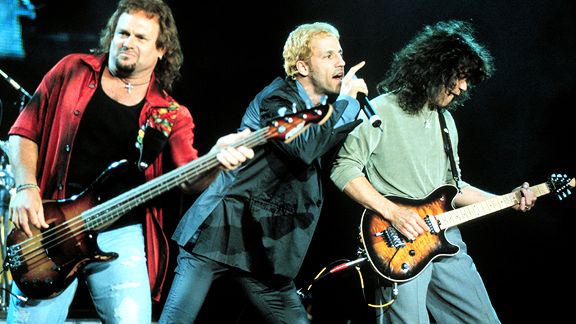 Tim Mosenfelder/ImageDirectVan Halen fans forgot about Gary Cherone -- just like UNC fans can't wait for this season to end.
North Carolina's national title defense defied hyperbole.
The Tar Heels went 16-16 and landed in the NIT.
How badly did this season go for UNC? It was a lot like Van Halen III.
Before someone from Chapel Hill tries to tip over my car, let me explain.

Roy Williams managed to keep UNC trucking after losing four lottery picks in 2005, much like Van Halen kept its stride after David Lee Roth decided he'd look sillier on his own. The incoming freshmen of '05 were more successful than their predecessors -- three Elite Eights, two Final Fours and a national championship -- much like when Van Halen increased record sales with Sammy Hagar.
Then came Gary Cherone.
Just as UNC's freshmen weren't able to execute Williams' plan this season, Cherone made Dave Navarro seem like a Red Hot Chili Pepper lifer by comparison. Just as the great Eddie Van Halen couldn't make VH III work, the holdovers from Carolina's championship band -- Williams and seniors Marcus Ginyard and Deon Thompson -- weren't enough to keep things rolling.
And just like Van Halen ignored Van Halen III on its last greatest hits compilation, the 2010 Tar Heels aren't likely to be celebrated with an NIT banner in the Smith Center rafters. Fans will pretend it never happened.
Yup, this season was Gary Cherone bad for UNC.