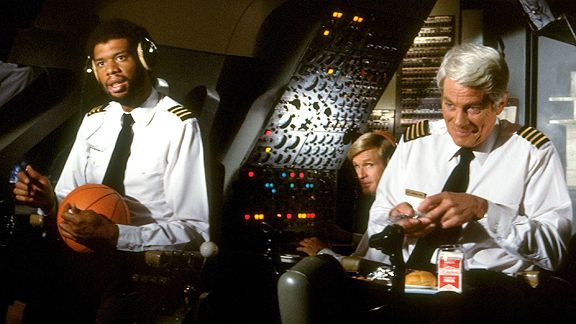 AP Photo
Peter Graves -- known for delivering the message "This tape will self-destruct" on "Mission: Impossible" in the 1970s and narrating the long-running "Biography" on A&E -- passed away Sunday.
Graves might be best remembered for his work in the 1980 movie "Airplane!" -- especially for the dialogue he delivered alongside Lakers legend Kareem Abdul-Jabbar. The Graves—Abdul-Jabbar exchange brings to mind Abbott and Costello's classic "Who's On First?" and the repartee still stands up today. In honor of Graves, we've reprinted the dialogue below.
To set the scene, Graves portrays the character of Captain Clarence Oveur, and Abdul-Jabbar plays his wingman, Roger Murdock.
Tower voice: Flight 2-0-9er, you're cleared for takeoff.
Oveur: Roger!
Murdock: Huh?
Tower voice: L.A. departure frequency, 123 point 9er.
Oveur: Roger!
Murdock: Huh?
Victor Basta (navigator): Request vector, over.
Oveur: What?
Basta: Flight 2-0-9er cleared for vector 324.
Murdock: We have clearance, Clarence.
Oveur: Roger, Roger. What's our vector, Victor?
Tower voice: Tower's radio clearance, over!
Oveur: That's Clarence Oveur. Over.
Tower voice: Over.
Oveur: Roger.
Murdock: Huh?
Tower voice: Roger, over!
Murdock: What?
Oveur: Huh?
Basta: Who?