When Jon Jones battles Brandon Vera on Sunday in the light-heavyweight main event of "UFC Live" on Versus, he'll do so equipped with something no mixed martial artist could have envisioned five years ago -- a trading card.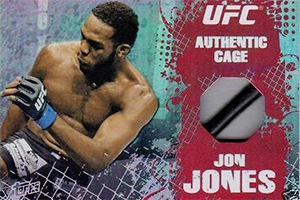 Beckett Media for ESPN.comA card with a piece of cage in it? Pretty sweet.
The fact that it also happens to be among the most in-demand cards in the sports-collectible universe right now simply reinforces the idea that MMA in general, and marquee organizations like UFC in particular, remain the fastest-growing sports phenomena on the planet.
Not that the folks at Topps needed any convincing. It was newsworthy enough when the traditionally stoic granddaddy of the trading-card industry reached out to secure an exclusive multiyear agreement with the UFC and frontman Dana White 18 months ago.
But the real haymaker came last February when Topps released its first stand-alone UFC card set, a sleeping giant of a product that rocked the sports-card industry as the surprise hit of 2009.
The dizzying debut surprised everyone -- partly because the product was so limited to begin with, and partly because die-hard, collectible-starved UFC fans beat traditional stick-and-ball-sport collectors to it. Quickly, boxes of the stuff ascended to more than four times their original cost.