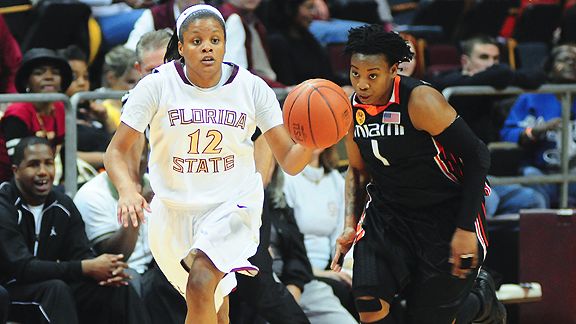 Reid Compton/Icon SMIFSU's Courtney Ward and her team prepare for the NCAA tourney by playing men.
TALLAHASSEE, Fla. -- Jason Alter didn't think playing against a women's college basketball team would be too tough.
He was a pretty good high school guard, an honorable mention on his all-county team. He just assumed a guy's natural physical advantages would give him a serious edge over a women's basketball player.
One hard pick changed Alter's opinion.
"I went straight to the floor," he said. "They're playing Division I basketball for a reason."
Alter has spent the last three years with the rest of the guys on the scout team of the Florida State women's basketball program. The Seminoles are a No. 3 seed entering the NCAA tournament, which begins Saturday.
It's a win-win situation. The guys keep their post-high school playing days alive in a way that beats the heck out of pickup games. The FSU women face a physical, athletic playing style they don't see on game nights.