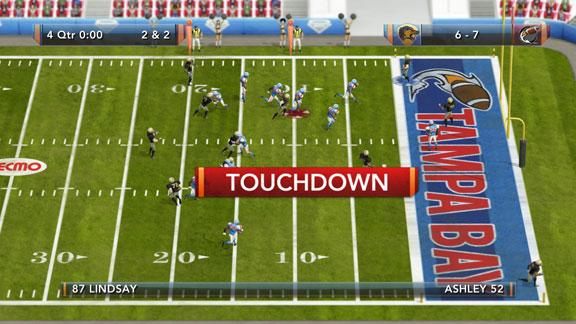 Tecmo"Tecmo Bowl Throwback" is downloadable, coming to Xbox Live Arcade and the PlayStation Network.
Bo Jackson up the middle. Barry Sanders running laps around the field (and circles around defenders). Christian Okoye smashing through any player who gets in his way.
When I think back to the classic days of "Tecmo Bowl" and "Tecmo Super Bowl," those are the images that flash instantly to mind.
And those days are about to return big time as Tecmo is set to release "Tecmo Bowl Throwback," a new downloadable version of their classic series on Xbox Live Arcade and the PlayStation Network this spring. And when I say those old days are about to return, I'm talking about the classic game right down to the historic rosters and playbooks from the good old days of Super Nintendo football.
The only difference is, Tecmo no longer has the NFL license, so in "Throwback," the Detroit team still has an all-time great at running back, it's just up to you to go in and edit his name.
I caught up with "Throwback's" producer, Mike Fahrny, to get all the dirt on the new/old game.