In the past few years, Topps has inserted a few surprises in its baseball card sets just to see if collectors would notice -- and to get a few non-collectors to take notice, too, and pick up a pack or two.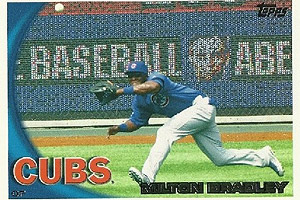 Courtesy of ToppsLook who's watching...
In 2007, it was a Derek Jeter card with Mickey Mantle digitally placed in the dugout and George W. Bush in the stands. In 2008, it was Yankees fan Rudy Giuliani celebrating in the Red Sox's World Series dogpile, a no-hitter highlight card for Johan Santana (a no-no that never happened) and more. Last year, it was a card of President Barack Obama throwing out a ceremonial first pitch and a smattering of rare cards of legends like Babe Ruth and Ty Cobb.
When the New York City-based company released its 2010 baseball card set in January, collectors started finding cards with pictures of New York Yankees who had been pied in the face (a tradition the team started last year after walk-off home runs) and last month Topps teased the fact that a short-printed variation card existed in the set featuring Abraham Lincoln.
These types of cards typically aren't easy finds -- they're not one per pack or one per box. They're found more like one in 10 boxes … or more.