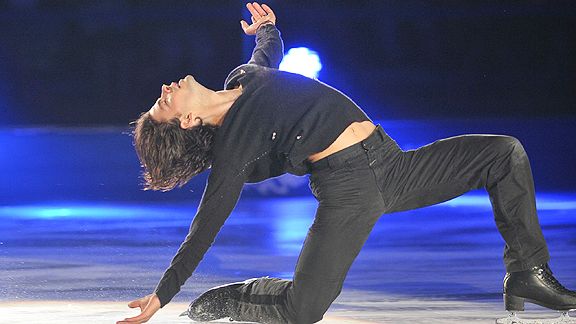 Susan Russell/International Figure Skating Swiss skater Stéphane Lambiel, the 2006 Olympic silver medalist, is a competitor on ABC's "Thin Ice."
MASHANTUCKET, Conn. -- Figure skating has never been short on storylines, tension or skimpy outfits. In other words, it's made for reality TV.
And in the span of just two nights, ABC hopes to pack its "Thin Ice" skating special with a season's worth of drama.
"'Dancing with the Stars,' 'So You Think You Can Dance,' those shows are just wildly popular," Thin Ice judge (and DWTS winner) Kristi Yamaguchi said. "I think the elements that make those shows popular is something skating absolutely has."
It just became finding a way to tap into it.
"Thin Ice", which begins Friday, brings together 10 of the world's top professional skaters (from singles, pairs and ice dancing) to face off in a couples competition with a total of $220,000 on the line. The real catch, because with reality TV there's always a catch, is that competitors are paired with new partners, performing to everything from Lady Gaga to Ne-Yo.