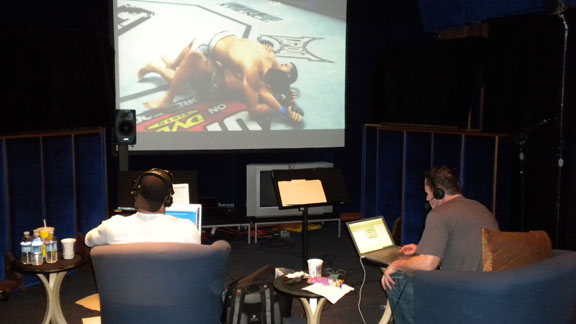 Jon RobinsonJoe Rogan and Mike Goldberg call a "UFC Undisputed 2010" match inside a Hollywood sound studio.
Joe Rogan is trying to rip my arm off.
One second I'm talking to the UFC color commentator/comedian/actor/jiu-jitsu badass; the next thing I know I'm on my back as Rogan attempts to demonstrate the correct way to apply the Americana arm lock to the "UFC Undisputed 2010" producers who have started to surround us like a playground brawl.
"It looks a little wrong in the game right now," Rogan explains. "When you pull the elbow towards the body, it's significantly more painful."
As Rogan yanks, the pain rips through my arm and I immediately start tapping.
Who knew covering MMA video games would be so painful … especially when interviewing the announcing team inside a swank Hollywood sound studio?