Congratulations to Cornell, Northern Iowa and Saint Mary's, the Cinderellas of this year's Big Dance … and to Murray State, Old Dominion and Ohio, who authored impressive first-round upsets. And to their deposed wicked stepsisters -- that's what you get!
"Cinderella" is a story of karma, so part of loving Cinderella has to be hating her tormentors. It's the flip side of the fable, and it's what makes the torching of your bracket a little easier to handle. So what did these stepsisters do to deserve their fates?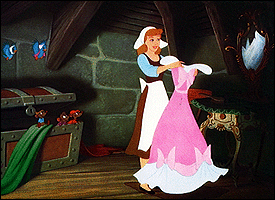 Team: Temple
Lost to: Cornell
Why: Bob Saget went to Temple, making the school at least partially responsible for eight seasons of "Full House." If this really is a fairy tale, losing on national television to an Ivy is just the beginning of the payback.
Team: Wisconsin
Lost to: Cornell
Why: No one wants to dance with a girl who moves like a grandmother.
Team: Villanova
Lost to: Saint Mary's
Why: No one wants to dance with a girl as old as your grandmother. That's you, Scottie Reynolds, the last remaining member of Nova's '85 title team.
Team: Vanderbilt
Lost to: Murray State
Why: Because calling themselves "The Dores" with no Jim Morrison or Ray Manzarek is a dastardly bait-and-switch.
Team: Notre Dame
Lost to: Old Dominion
Why: Memo to Mike Brey: T-shirts violate the dress code of any dance, large or small.
Team: Georgetown
Lost to: Ohio
Why: Another historic fashion faux pas. The "gray sleeves under the jersey" look pioneered by Patrick Ewing didn't spawn many imitators.
Team: Kansas
Lost to: Northern Iowa
Why: Cinderella was too busy getting ready to boogie to care about your brackets. Or mine.