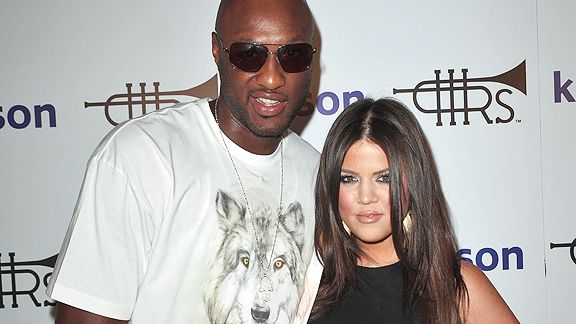 John Shearer/WireImageLamar Odom's marriage to Khloe Kardashian has really upped his profile.
When you're watching television for six to eight hours a day -- which many of us do during the NCAA tournament's opening rounds -- you see the same commercials over and over again. Two that stuck out to me last weekend were cell-phone ads. One commercial, for Palm, featured an unknown but flier-than-a-fly-girl woman walking down a city street in a red dress to the timpani rhythm of Mos Def's "Quiet Dog." The other, for Samsung, featured an increasingly familiar pitchman -- Lamar Odom.
Over the past couple of months, Odom has appeared in this Samsung commercial, a Super Bowl ad for PowerBar Energy Gel Blasts in which he "dunks on the moon" and the ubiquitous $5 Box Taco Bell commercial with Charles Barkley (yeah, you know, "It rocks, it rocks").
Why is Odom featured in so many TV commercials? We'll call it the Kardashian Effect.
In November, one day after 3.2 million viewers watched Odom and Khloe Kardashian get hitched on the E! reality show "Keeping Up With the Kardashians," the newlyweds appeared on late-night chatfest "Chelsea Lately." Host Chelsea Handler asked Odom, "What is the difference between being a Laker and being famous, and being married to [one of the Kardashian girls] and being famous? It's a whole new different kind of thing, right?" Odom responded: "I mean, not really. When you're a Laker, you're already famous. It's a big-time brand."
But come on, homey -- the 3.2 million people who watched the "Kardashians" episode (about the same size audience as a well-rated regular-season NBA game) is a distinctly different demographic.
Sports fans and Southern Californians knew and recognized the "pre-Khloe" Odom. But it's likely that, "post-Khloe," the random coed watching Samsung's commercial for its new Omnia II recognizes Odom, too. That's why Paul Golden, Samsung Mobile's chief marketing officer, called Odom -- now in his 11th NBA season -- an athlete "on the rise."
As much as we hoopheads love Odom's game (and we reporters dig him for always being thoughtful and accommodating), let's be real for a second: He's a sixth man! (Albeit an overqualified one.) Yeah, he has a championship ring, but so do Paul Pierce and Chauncey Billups. Yeah, he's in L.A., but so is Derek Fisher. Fact is, after Kobe, LeBron, D-Wade and Dwight Howard, Odom is probably the most widely recognized NBA athlete in terms of non-NBA audiences.
That's the Kardashian Effect.