The editing team here at Page 2 would like to offer a hearty congratulations to Bob Uecker. We just found out that World Wrestling Entertainment will be inducting Uecker into the WWE Hall of Fame on Saturday night in Phoenix, Ariz. The ceremony will air on the USA Network at 11 p.m.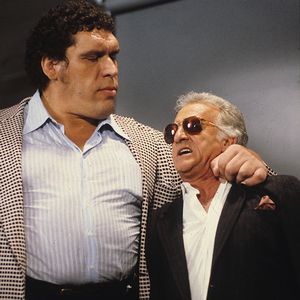 WWEHere's Uecker with legendary wrestler Andre the Giant.
Uecker is best known for being the longtime radio play-by-play announcer for the Milwaukee Brewers, but he has also participated in two WrestleManias. He was the ringside announcer at WrestleMania III, back in 1987. And the next year, at WrestleMania IV, he served as the backstage interviewer.
(We're particularly fond of his work in the "Major League" movies and on the 1980s sitcom "Mr. Belvedere." Speaking of which, why aren't repeats of that show airing anymore?)
"Bob Uecker cemented his place in WWE history with his appearances at WrestleMania III and IV," WWE chairman and CEO Vince McMahon said in a statement. "Seeing the huge hands of WWE Hall of Famer Andre the Giant around Uecker's neck is a clip that became immortalized in pop culture history."
Other inductees this year include Gorgeous George and Ted "The Million Dollar Man" DiBiase.