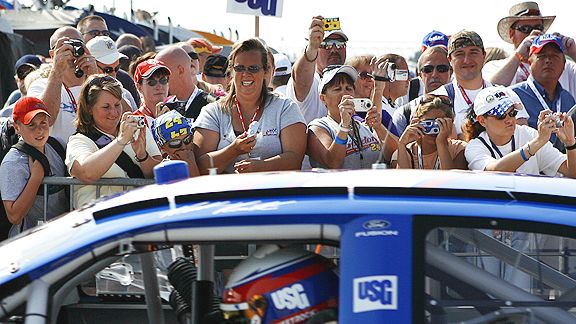 AP Photo/Nam Y. HuhNASCAR drivers and fans have always had a close relationship that's sometimes even bizarre.
Who is more relentless -- Jimmie Johnson -- who won yet again at Bristol, Tenn., this past Sunday -- or the NASCAR fans who cheered him on in the cold, wet weather?
It might be the fans. Johnson, after all, was warm and dry the whole time.
For proof of fan devotion, witness Andrew Giangola's new book, "The Weekend Starts on Wednesday: True Stories of Remarkable NASCAR Fans."
The book, Giangola's first, describes in glowing detail the bizarre, hilarious, occasionally poignant stories of NASCAR most fanatic. Giangola would know, being a bit bizarre and hilarious in his own right. This is a guy, after all, who put a picture of himself toothless in his own book.
A New York native and Fordham grad, Giangola doesn't mind looking foolish. Once, moments before a black-tie dinner with NASCAR headman Brian France, Andrew discovered that moths had chewed holes in his tuxedo pants. "I found a thick marker," he told Page 2, "And colored my legs black. No one knew except my dog the next morning."
In the two years he spent writing the book, Giangola says, Mike Wright might have been the most passionate fan he met.
A bearded, long-haul trucker in his 40s, from a one-stoplight town in Virginia, Mike has seen hundreds of races -- and is the kind of guy who might bring his homemade spirits to the track.
In the book, Wright tells a story of a gas leak at a motel outside Darlington, S.C., the night before a race. The alarms went off, and authorities were ordering the guests out of the hotel. Wright found his tickets and race scanner, then ran outside in his underwear. Nothing else.
"I could go to Wal-Mart to buy clothes, " he said. "But I couldn't get more race tickets."