Congratulations to the New York Jets! Come August, the Mean Green will follow in the footsteps of the Ravens, Cowboys, Jaguars, Chiefs and Bengals. They are the next team to be featured on HBO's hit series "Hard Knocks."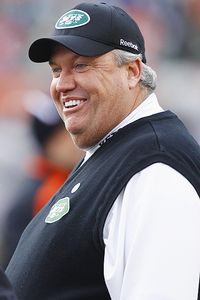 Joe Robbins/Getty ImagesRex Ryan on HBO? This will be fun.
With Rex Ryan -- an outspoken coach who has found himself in hot water for flicking off fans after a UFC event, flashing his belly at an NHL game, and talking smack about Bill Belichick -- Jets fans can expect some very memorable moments. When we caught up with D'Brickashaw Ferguson, a left tackle for the Jets, he said the team's game plan for the cameras is to just try to act normal. "We pretend like they're not even there," he said. "That's all you can do. You just want to play in front of the fans."
While Ferguson might not be looking to drop any weight off his 310-pound frame, the show will provide an up-close look at the slimmer and healthier Ryan, who after ballooning to 338 pounds underwent lap-band surgery earlier this month (he is now reportedly down to 250 pounds).
"If I can get down to 200, I'll challenge [quarterback Mark] Sanchez for those GQ issues," Ryan told the Boston Herald in a recent interview.
And Ferguson said Ryan's not the only Jets coach who is worrying about his weight. "Our whole staff is really health-conscious," he said. "I just think it's good everyone is on board."
But even if Ferguson's not worried about his weight, he said he expects nothing except for Ryan to be himself -- the outspoken sparkplug that has brought the Jets back into the national spotlight. "With Rex, what you see is what you get," Freguson said. "Rex is going to be Rex."