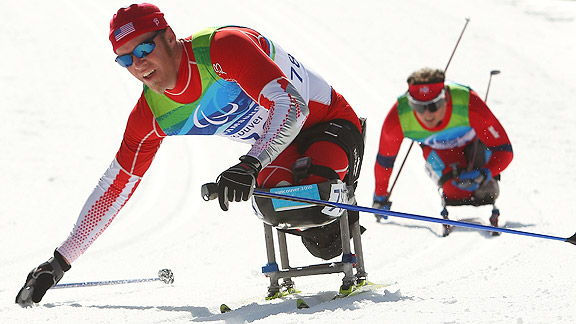 Quinn Rooney/Getty Images
WHISTLER, British Columbia -- Turns out we were following the wrong athletes all along.
As always, I was dazzled and inspired by the Olympians at the 2010 Winter Games in Vancouver, from the champions who went home wrapped in glory to those who returned without a medal but with the satisfaction that they competed despite whatever obstacle was thrown before them. I'll always remember the words of 51-year-old skier Hubertus von Hohenlohe, who first competed in the 1984 Sarajevo Olympics and told me after he raced the slalom at Whistler, "You can do more than you think."
Then I went to the Paralympics finale this past weekend and really learned that lesson.
Alexi Salamone was born near Chernobyl 14 months after the nuclear disaster there. His legs were horribly deformed at birth and had to be amputated. Orphaned, he was adopted by a couple in Buffalo, N.Y., and raised in the United States. He scored the winning goal in the United States' gold-medal victory in sledge hockey Saturday night.
Germany's Gerd Schonfelder tried to jump aboard a moving train 20 years ago. He missed, losing his right arm and the fingers on his left hand. He won the gold medal in the super-G on Friday morning while his wife was in labor delivering their son. He won the super-combined the next day, his 22nd Paralympics medal.