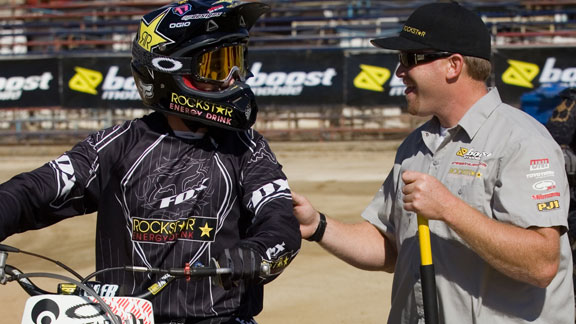 Courtesy Marc BurnettMarc Burnett considers himself a boss to the host of riders that perform on his tour every year.
Hurtling down a deserted stretch of Nebraska highway, freestyle motocross impresario Marc Burnett sat behind the wheel of a tour bus while a party raged in the seats behind him. Local girls from the last small-town show danced on board. Eyes on the road, Burnett's solace was singing '80s rock anthems with a fresh-faced Jeremy Lusk riding shotgun.
A certain X Games gold medalist, specializing in jumping over a bar, but who will remain nameless, decided it would be highly amusing to drop their pants and sit on Burnett's head. For Burnett it was time, once again, to lay down the law and rein in the FMX animals -- part of the job when you're managing the longest-running, farthest-reaching and biggest tour in the history of freestyle motocross, the Boost Mobile Freestyle MX Tour, presented by Monster Energy.
With the road stretching in front of Burnett in a straight line, he clicked on the cruise control at 80 mph, stepped away from the wheel, and went back to kick some butt. Luckily, Lusk grabbed the wheel. Not so luckily for the unnamed medalist, Burnett did go back and kick some butt.
"I have to wear a lot of hats in this job, and while the riders are my friends, I also have to keep them in line from time to time," he acknowledged. "And of course, after I kicked that guy's butt, we sat down and drank some beers and he's still a friend of mine and still occasionally rides the tour."