Tim Tebow impressed enough to earn an NFL draft invitation. In Oklahoma, Sam Bradford looked like a franchise quarterback. Yes, there's nothing like a stellar pro day to fill column inches before the draft ensure one's status as a future Hall of Famer. Because if there's one thing all first-rate professional football players have in common, it's the ability to dazzle scouts while performing a series of non-contact drills. Unconvinced? Play our pro day match game to see how workout prowess invariably predicts future NFL success:
Pro Day Quote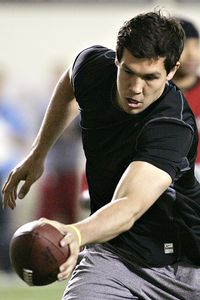 AP Photo/Sue OgrockiNever mind all those games Sam Bradford played in college. We'll judge him by his pro day workout.
1. "He performed so poorly at his pro day workout in March, he invited teams back for a second workout last Friday. It wasn't much better."
2. "He made all his throws with zip on the ball. He could make all his throws, both right and left. He's a polished quarterback. He's smart. On tape you can see he knows where to go with the ball. He's a good young prospect."
3. "At pro day, he knelt on one knee for much of the proceedings, dressed in a track suit. He took off the top of the track suit to participate in the bench press .... [he] managed only 15 repetitions of the standard 225-pound bench press, a performance that was considered disappointing."
4. "He was only able to run a 4.65, raising further questions about the oft-injured player."
5. "He looked very good catching the football."
6. "We were very impressed. He had a great day. He seems very first class, very easy to get along with. No doubt he was a great leader here. That's why everybody wants him now."
7. "How do you ignore him? He's the best athlete in the draft. It may not even be close. Honestly, he's the most mesmerizing player I've ever evaluated."
Draft Prospect
a. Terrell Suggs
b. JaMarcus Russell
c. Matt Jones
d. LenDale White
e. Malcom Kelly
f. Frank Gore
g. Brady Quinn
Answer Key: 1, a; 2, g; 3, d; 4, f; 5, e; 6, b; 7, c
Sources: Associated Press, The Shreveport Times, Kansas City Star, The Fort Wayne News-Sentinel, ESPN.com, NFL.com.