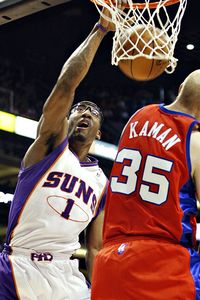 AP Photo/Rick ScuteriAmar'e Stoudemire averaged about 29 points a game in March.
Maybe it's because the NBA playoffs are right around the corner, maybe it's because he's healthy finally, maybe it's because he's playing for a contract this summer, or maybe it's because there are no trade rumors swirling around Amar'e Stoudemire. Whatever the reason is, Stoudemire has taken his game to a whole new level.
In the past 12 games, Stoudemire is averaging nearly 29 points per game, 10 rebounds per game and the Suns are 10-2. Some people have questioned whether Stoudemire should be given a max contract this summer. If he continues to play like this and continues to stay healthy, he will erase all of that doubt.
Amar'e Stoudemire joined KTAR in Phoenix with Doug and Wolf to talk about the play of the Suns recently and his tremendous month.
On what he would say to the people who believe he is playing this way because he wants a max contract: "They haven't been watching my career at all since I've been in the league," he said. "I've been improving every single year. After the All-Star break I've been improving. So if they think I'm just playing for a contract, they're out of their minds."