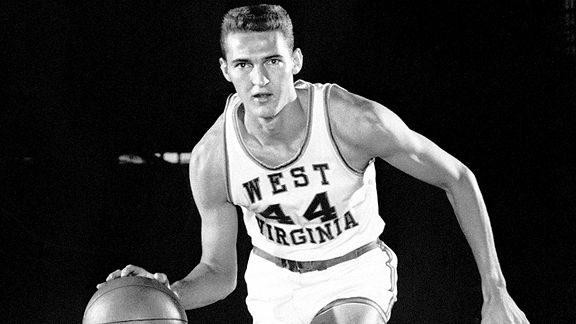 AP PhotoBefore Jerry West was "The Logo" he was tearing up the hardwood for his homestate Mountaineers.
This coming Saturday is one the biggest games for the University of West Virginia since 1959. That was the year that Jerry West took the Mountaineers all the way to the championship game where they eventually lost to California 71-70. Despite winning the Most Outstanding Player of the 1959 Final Four, West has since replayed that game in his head so many times wondering what could have been if he had tried a little bit more. Fast forward to today and West finds himself rooting for his son, Jonnie West, who now plays for his alma mater, even though he hasn't watched much of the WVU games so far in this tournament because it brings back bad memories from the California game.
Jerry West joined Dan Patrick to talk about how nervous he is for West Virginia, on his son being on the West Virginia team, and whether he has stopped replaying the 1959 Championship Game in his head.
West on whether he has stopped replaying the 1959 Championship Game in his head:
"Not really Dan. It is very much like some of the NBA Finals that I played in. It does damage, OK. You just don't forget those things. Some people can, I can't. I think that in my life that is probably what has driven me, the desire to compete and win. When you have been so close so many times and you don't win it extracts a toll on you. I think you look at yourself, 'What could I have done to help us win?' In reality, the only sports that you can do that in are individual sports, golf and tennis in particular where one person's accomplishments on the court, course or arena that they are playing in will let them win. It is part of a team game. It is not one person. It is ten or twelve people that feel that horrible jolt after the game is over. I am really hopeful that they can win. They are not going to get out-coached, I don't care who they are playing. They are going to have to win the game how they have won it all year long, gritty, tough. They don't shoot the ball particularly well. Against Kentucky the other day they out-rebounded by fifteen and shot thirty-eight percent and still won the game. It is something uniquely different ... It is a special time for everyone."