Shonda Schilling has played many roles: mother, daughter, advocate, "baseball wife." Yet perhaps none of these titles were as eye-opening and therapeutic as her latest -- author.
Schilling, married to retired baseball great Curt Schilling, recently released "The Best Kind of Different -- Our Family's Journey with Asperger's Syndrome," a book detailing not only the struggles associated with their son Grant's Autism Spectrum Disorder diagnosis, but the tumultuous state of her marriage and personal mental health.
Beneath the happy Red Sox-clad family was a plethora of pent up frustration and miscommunication. Three of her children suffer from ADHD, but Grant, now 10 years old, was particularly puzzling. To outsiders, it seemed like his public meltdowns and temper tantrums were merely symptoms of bad parenting: the spoiled son of a major league star always getting his way.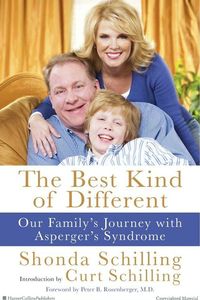 Harper Collins Publishers
Grant's diagnosis with Asperger's syndrome, a form of high-functioning autism characterized by gross impairment in social interaction, had relieved some of the confusion. But the guilt was still there, and Shonda found herself battling depression.
"I was frustrated and scared: unsure about the future for him [Grant] and for us," she said. "I would call him [Curt] on the road and he just didn't want to hear about it. There was no way for him to understand what was going on in the house and I didn't have the patience for somebody who didn't want to hear me out."
Curt Schilling admits he knew no other way to carry out his baseball career than to immerse himself in the game. Neither wanted to admit their shortcomings as parents, and the tension was taking a toll on their marriage.
"I'm traveling by myself and I get my butt kicked in Yankee Stadium 9-1. I'm pissed off and upset and calling for someone to lean on and she's hoping for a call to get a shoulder to lean on, and that's when things really dwindled," Curt Schilling said. "After the fact, we realized we had to fix ourselves and our relationship before we could start adjusting our kids."
Friday is World Autism Awareness Day, and while the Schillings hope that sharing their personal experiences with Asperger's Syndrome will help demystify some of the common misconceptions about the disorder, that wasn't the driving force behind Shonda's writing.
"I know that there are people out there who feel the way that I do and feel that they're not a good parent," she said. "Well, there's no perfect parent and there's no perfect child. This book is for anybody who's going through a tough time in their life, just to know that they're not alone."